Corvus Gold Continues to Expand the North Bullfrog Project in Nevada Ahead of New Resource Estimate
August 17, 2011
Vancouver, B.C……..Corvus Gold Inc. ("Corvus" or the "Company") - (TSX: KOR, OTCQX: CORVF) is pleased to announce assay results from the final 18 holes of its 2010-2011 drill program at the North Bullfrog Project located near Beatty, Nevada. Highlights include the continued expansion of the Savage Valley target and intercepts at the Jolly Jane target of 44 metres of 0.45 g/t gold (hole NB-11-107) and 44 metres of 0.48 g/t gold (hole NB-11-114). Currently, work is underway on an updated NI 43-101 resource estimate expected to be completed in late September. Following the resource update, the Company will complete a Preliminary Economic Assessment focused on a potential conventional open pit and run-of-mine heap leach mining operation.
The latest drilling results come from the Savage Valley and Jolly Jane target areas (see Figure 1 below). Results from Savage Valley have confirmed the continuity of mineralization over a 600 x 400 metre area where mineralization was previously not known to exist. At Jolly Jane, the latest phase of drilling has also confirmed the continuity of mineralization over an area of 600 x 350 metres (see results in Table 1).
In addition, ongoing metallurgical bottle roll testing of the oxide mineralization indicates that the gold has a very rapid recovery rate, with an average 90% of the recoverable gold extracted in the first two hours (see Table 2). The Company is currently conducting bulk leaching tests to assess the potential for a heap leaching operation. A total of four 12-inch by 10-foot columns have been assembled at McClelland Laboratories in Reno for leach testing and metallurgical recovery determinations, and the results from these tests, as well as from additional bottle roll tests, will be announced in the upcoming months.
The results in this release are from the final set of holes drilled as part of a 75-hole, 17,820-metre drilling program carried out from October 2010 to July 2011. Out of the total 75 holes drilled, 70 holes have intercepted significant gold mineralization grading from 0.10 g/t to 11.86 g/t over intercepts ranging from 4.6 metres to 301.75 metres. Highlights from the entire 2010-2011 drilling program include:
11.9 g/t gold over 6.1 metres from 178.3 metres (Hole NB-10-63)
2.4 g/t gold over 15.0 metres from 16.8 metres depth (Hole NB-11-79)
1.14 g/t gold over 30.5 metres from 105.2 metres depth (HoleNB11-91)
0.51 g/t gold over 68.0 metres from 32.0 metres depth (Hole NB-11-81)
0.41 g/t gold over 56.4 metres from 7.62 metres depth (Hole NB-11-72)
0.33 g/t gold over 301.75 metres from 83.8 metres depth (Hole NB-11-91)
The 2010-2011 drill program has successfully defined a new area of thick oxide mineralization covering approximately 1.6 km2 in the northern portion of the North Bullfrog property package. The new discovery occurs as a large stratabound disseminated gold deposit preferentially hosted within a rhyolitic ash flow unit called the "Crater Flat Tuff". Following this work, the Company will be permitting a Phase II drill program to further define the potential of this major new Nevada gold discovery.
Jeff Pontius, CEO of Corvus, stated: "The results from our latest phase of drilling are very exciting as they have demonstrated significant expansion potential at the new North District target areas in future infill drill programs. In addition, the exceptional recoveries and leaching characteristics we see in the oxide ores suggest the potential for a low unit and capital cost operation, which could be quite attractive in our current gold price environment."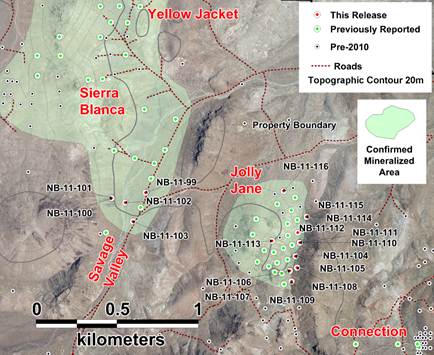 Figure 1: Locations of drill holes covered in this press release.
Table 1: Significant intercepts* from the last 18 holes drilled at North Bullfrog
Hole ID
From
(metres)
To
(metres)
Interval
(metres)
Gold
(g/t)
Silver
(g/t)
Prospect
Area

---

NB-11-99
222.5
231.6
9.1
0.36
0.76
NB-11-100
33.5
103.6
70.1
0.20
0.61
Savage
Valley
including
33.5
61.0
27.4
0.29
0.65
NB-11-101
51.8
93.0
41.1
0.20
0.62
NB-11-102
70.1
117.3
47.3
0.27
0.46
including
82.3
103.6
21.3
0.39
0.52
NB-11-103
45.7
91.4
45.7
0.23
0.47

---

NB-11-104
99.1
128.0
29.0
0.22
0.73
NB-11-105
no significant intercepts
NB-11-106
59.4
96.0
36.6
0.43
0.78
Jolly Jane
NB-11-107
56.4
100.6
44.2
0.45
0.60
NB-11-108
no significant intercepts
NB-11-109
45.7
59.4
13.7
0.31
0.38
NB-11-110
no significant intercepts
NB-11-111
86.9
115.8
28.9
0.30
0.45
NB-11-112
64.0
99.1
35.0
0.35
0.62
NB-11-113
4.6
61.0
56.4
0.32
0.39
NB-11-114
77.7
121.9
44.2
0.48
0.89
NB-11-115
no significant intercepts
NB-11-116
54.9
83.8
29.0
0.16
0.29
NB-11-116
100.6
123.4
22.9
0.27
0.37
* Intercepts calculated using a 0.1 g/t cutoff with a maximum of 3 metres of internal dilution. Reported drill intercepts are not true widths. At this time, there is insufficient data with respect to the shape of the mineralization to calculate its true orientation in space.
Table 2: Results of 72-hour, 1 kilogram cyanide bottle roll tests at various North Bullfrog prospects.
Test ID
Target Area
Stratigraphic
Unit
Gold
(g/t)
Oxidation
2 hour
Recovery
Total
Recovery

---

48436 B
Savage Valley
Crater Flat
0.510
Oxide
85%
94%
48436 C
Savage Valley
Crater Flat
0.450
Oxide
95%
93%
48432 A
Jolly Jane
Crater Flat
0.460
Oxide
88%
90%
48434 B
Sierra Blanca
Crater Flat
0.291
Oxide
56%
90%
48432 C
Jolly Jane
Crater Flat
0.369
Oxide
80%
89%
48432 D
Jolly Jane
Crater Flat
0.318
Oxide
74%
85%
48433 C
Sierra Blanca
Crater Flat
0.471
Oxide
69%
77%
48433 A
Sierra Blanca
Crater Flat
0.709
Mostly Oxide
82%
87%
48433 D
Sierra Blanca
Crater Flat
0.371
Mostly Oxide
59%
70%
48434 D
Sierra Blanca
Crater Flat
0.347
Mixed Ox/Sulf
61%
72%
48433 B
Sierra Blanca
Crater Flat
0.358
Mixed Ox/Sulf
40%
47%
48436 A
Savage Valley
Crater Flat
0.352
Mixed Ox/Sulf
42%
40%
48432 B
Jolly Jane
Dacite
0.554
Oxide
90%
95%

The bottle roll tests were conducted on 75 micron material from oxidized and partially oxidized RC drill samples collected at various North Bullfrog prospects. The two hour recovery indicates the percentage of gold that went into solution in the first two hours. The total recovery indicates the total amount of gold that was dissolved in 72 hours.
About the North Bullfrog Project, Nevada
The North Bullfrog Project covers over 24 square kilometres in southern Nevada just north of the historic Bullfrog gold mine formerly operated by Barrick. The project has excellent infrastructure, being adjacent to a major highway and power corridor, and is 100% controlled by the company.
The project currently includes eight prospective gold targets. Mineralization occurs in two primary forms: (1) broad stratabound bulk-tonnage gold zones such as the Sierra Blanca and Jolly Jane systems; and (2) moderately thick zones of high-grade gold and silver mineralization hosted by structural zones with breccias and quartz-sulfide vein stockworks such as the Mayflower and Yellowjacket targets. The Company is actively pursuing both types of mineralization.
A video of the North Bullfrog project showing location, infrastructure access and 2010 winter drilling is available on the Company's website at http://www.corvusgold.com/investors/media/.
Qualified Person and Quality Control/Quality Assurance
Jeffrey A. Pontius (CPG 11044), a qualified person as defined by National Instrument 43-101, has supervised the preparation of the scientific and technical information that form the basis for this news release and has approved the disclosure herein. Mr. Pontius is not independent of Corvus, as he is the CEO and holds common shares and incentive stock options.
The work program at North Bullfrog was designed and supervised by Russell Myers (CPG 11433), President, and Mark Reischman, Nevada Exploration Manager, of Corvus who are responsible for all aspects of the work, including the quality control/quality assurance program. On-site personnel at the project log and track all samples prior to sealing and shipping. All sample shipments are sealed and shipped to ALS Chemex in Reno, Nevada, for preparation and then on to ALS Chemex in Reno, Nevada, or Vancouver, B.C., for assaying. ALS Chemex's quality system complies with the requirements for the International Standards ISO 9001:2000 and ISO 17025:1999. Analytical accuracy and precision are monitored by the analysis of reagent blanks, reference material and replicate samples. Quality control is further assured by the use of international and in-house standards. Finally, representative blind duplicate samples are forwarded to ALS Chemex and an ISO compliant third party laboratory for additional quality control.
About Corvus Gold Inc.
Corvus Gold Inc. is a resource exploration company focused in Alaska and Nevada which controls a number of exploration projects representing a spectrum of early-stage to advanced gold projects. Corvus is committed to building shareholder value through new discoveries and leveraging those discoveries via partner funded exploration work into carried and or royalty interests that provide shareholders with exposure to gold production.
On behalf of
Corvus Gold Inc.
(signed) Jeffrey A. Pontius
Jeffrey A. Pontius,
Chairman and Chief Executive Officer

Contact Information: Shirley Zhou, Manager - Corporate Communications
Email: szhou@corvusgold.com
Phone: 1-888-770-7488 (toll free) or (604) 638-3246 / Fax: (604) 408-7499
Cautionary Note Regarding Forward-Looking Statements
This press release contains forward-looking statements and forward-looking information (collectively, "forward-looking statements") within the meaning of applicable Canadian and US securities legislation. All statements, other than statements of historical fact, included herein including, without limitation, statements regarding the anticipated content, commencement and cost of exploration programs, anticipated exploration program results, the discovery and delineation of mineral deposits/resources/reserves, the potential for any mining or production at North Bullfrog, the potential for the identification of multiple deposits at North Bullfrog and the operation of a central processing facility to treat North Bullfrog mineralization, the potential for a large-scale, low-cost, run-of-mine heap leach operation at North Bullfrog, the potential for a low unit and capital cost operation at North Bullfrog, the proposed completion of a PEA for the North Bullfrog project, business and financing plans and business trends, are forward-looking statements. Although the Company believes that such statements are reasonable, it can give no assurance that such expectations will prove to be correct. Forward-looking statements are typically identified by words such as: believe, expect, anticipate, intend, estimate, postulate and similar expressions, or are those, which, by their nature, refer to future events. The Company cautions investors that any forward-looking statements by the Company are not guarantees of future results or performance, and that actual results may differ materially from those in forward looking statements as a result of various factors, including, but not limited to, variations in the nature, quality and quantity of any mineral deposits that may be located, variations in the market price of any mineral products the Company may produce or plan to produce, the Company's inability to obtain any necessary permits, consents or authorizations required for its activities, the Company's inability to produce minerals from its properties successfully or profitably, to continue its projected growth, to raise the necessary capital or to be fully able to implement its business strategies, and other risks and uncertainties disclosed in the Company's latest interim Management Discussion and Analysis and filed with certain securities commissions in Canada. All of the Company's Canadian public disclosure filings may be accessed via www.sedar.com and readers are urged to review these materials, including the technical reports filed with respect to the Company's mineral properties.
Caution Regarding Adjacent or Similar Mineral Properties
This news release contains information with respect to adjacent or similar mineral properties in respect of which the Company has no interest or rights to explore or mine. The Company advises US investors that the mining guidelines of the US Securities and Exchange Commission (the "SEC") set forth in the SEC's Industry Guide 7 ("SEC Industry Guide 7") strictly prohibit information of this type in documents filed with the SEC. Readers are cautioned that the Company has no interest in or right to acquire any interest in any such properties, and that mineral deposits on adjacent or similar properties are not indicative of mineral deposits on the Company's properties.
This press release is not, and is not to be construed in any way as, an offer to buy or sell securities in the United States.