Corvus Gold Expands High-Grade Vein Deposit at its Terra Project, Alaska 3.4 metres @ 11.6 g/t Gold and 106.5 g/t Silver
December 6, 2011
Vancouver, B.C……..Corvus Gold Inc. ("Corvus" or the "Company") - (TSX: KOR; OTCQX: CORVF) announces results from the 2011 resource expansion drilling program on its Terra project in the McGrath Mining District of Western Alaska. The four hole, 2011 drill program has been successful in expanding the high-grade "Ben Vein" system an additional 200 meters to the north significantly expanding the potential size of the deposit (Table 1). In addition other vein zones outside the resource area were intersected in the drilling which further increases the potential of the overall system. The project currently has a NI 43-101 inferred resource of 428,000 tonnes at an average grade of 12.2 g/t gold and 23.1 g/t silver for a total of 168,000 ounces gold and 318,000 ounces silver. In 2012, WestMountain has reported that they intends follow-up this year's drilling success with further resource expansion drilling and initiate bulk sampling gold production with the pilot plant scale mill constructed at the site in 2011. WestMountain has expressed that their ultimate objective at Terra is to bring the deposit into year-round production as soon as possible.
Terra Project Summer 2011 Drill Results
(Intervals calculated using a 1 g/t gold cutoff grade, Including uses a 5 g/t gold cutoff grade)
| | | | | | | |
| --- | --- | --- | --- | --- | --- | --- |
| Drill Hole | From | To | Interval | Au | Ag | Vein Zone |
| WGC-33-11 | 35.29 | 35.44 | 0.15 | 31.80 | 15.20 | HW -3 |
| | 76.69 | 77.19 | 0.50 | 5.73 | 3.30 | HW -2 |
| Including | 76.69 | 76.89 | 0.20 | 12.05 | 6.30 | HW-2 |
| | 104.84 | 105.97 | 1.13 | 2.23 | 4.09 | HW-1 |
| | 139.06 | 139.90 | 0.84 | 7.42 | 69.39 | Ben Vein- 100m step out |
| Including | 139.59 | 139.90 | 0.31 | 15.60 | 138.00 | Ben Vein |
| WGC-11-34 | 21.30 | 21.60 | 0.30 | 8.01 | 68.5 | HW-3 lost hole at 67m |
| WGC-34B-11 | 111.04 | 111.40 | 0.36 | 35.70 | 174.00 | HW - 2 |
| | 115.40 | 117.95 | 2.55 | 6.12 | 28.75 | HW - 1 |
| | 120.00 | 125.60 | 5.60 | 8.15 | 69.69 | Ben Vein - 100m step out |
| Including | 121.60 | 125.00 | 3.40 | 11.6 | 106.5 | Ben Vein |
| WGC-35-11 | 114.00 | 114.53 | 0.53 | 25.60 | 4.90 | Ben Vein - 200m step out |
* Reported drill intercepts are not true widths. At this time, there is insufficient data with respect to the shape of the mineralization to calculate its true orientation in space.
The four holes completed in the 2011 program were on two 100 metre, step-outs to assess the expansion potential of the Ben Vein system to the north (Figure 1). The results have confirmed the extension of the system at similar grades to the existing resource to the south and offer encouragement for an expansion of the current resource base. In addition, the drilling intersected additional vein systems in the hangingwall of the main Ben Vein (only vein modeled in the current resource) which have returned encouraging gold and silver values and will be followed up in future work.
Jeff Pontius, Corvus Gold's CEO states "The expansion of the Ben Vein system confirms our belief that the Terra gold system has significant potential to host a major high-grade gold - silver deposit. We are looking forward to seeing the first gold production from this significant new Alaskan gold discovery beginning next year and the financial strength that will add to our Company."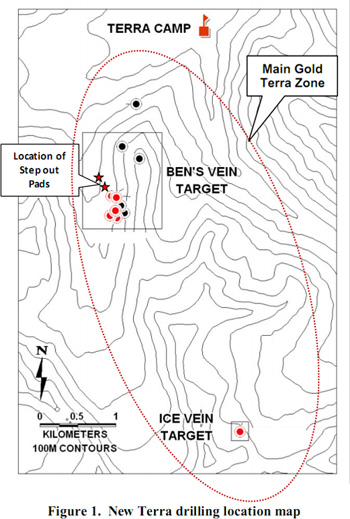 In addition regional work during 2011 has identified a new gold system approximately 15 kilometres to the southeast of the Terra deposit which has now been staked. This new zone of gold mineralization has returned numerous stream silt samples in excess of 100 ppb gold over a broad area with a high of 2,000 ppb gold. This level and size of the anomaly is similar to the initial stream silt values collected from the main Terra mineralized trend prior to its discovery. The Company's property position now covers some 205 square kilometres making it one of the larger exploration properties in Alaska.
Terra Project Background
The Terra Gold Project consists of 350 State of Alaska unpatented lode mining claims covering approximately 205 km2 in the McGrath Mining District of Western Alaska. The property is centered on an 8-km-long trend of high-grade gold vein occurrences which have returned numerous surface rock samples and drill intersection in excess of 50 g/t gold.
In a Joint Venture Agreement signed September 15, 2010, Raven Gold Alaska Inc. ("Raven Gold"), a wholly owned subsidiary of Corvus, optioned the project to Terra Gold Corporation ("Terra Gold"), a wholly owned subsidiary of Terra Mining Corporation ("Terra Mining"), whereby Terra Gold has the right to earn a 51% interest in the Terra Project from Raven Gold by spending a total of USD 6.0 million over 3 years to December 31, 2013 (of which Terra Gold has incurred approximately USD 2 million to date). Terra Gold can further increase its ownership to 80% with a USD 9.5 million capital investment over a four-year period. In addition, Raven Gold is entitled to an NSR of between 0.5% and 5% on all precious metal production and a 1% NSR royalty on all base metal production.
On March 1, 2011, Terra Mining was acquired by WestMountain.
Qualified Person and Quality Control/Quality Assurance
WestMountain has advised the Company that all exploration work on the Terra property has been carried out under their direct control and supervision. All sample shipments are sent to ALS Chemex in Anchorage, Alaska, for preparation and then on to ALS Chemex in Reno, Nevada, or Vancouver, B.C., for assay. ALS Chemex's quality system complies with requirements for the International Standards ISO 9001:2000 and ISO 17025:1999. WestMountain has its own quality assurance/quality control programs in place. WestMountain has advised that the technical information provided by WestMountain and contained in this news release was reviewed by Greg Schifrin, CEO, a Qualified Person as defined in NI 43-101.Â
All of the foregoing information has been provided by WestMountain, the parent company of the operator, Terra Gold. Jeffrey A. Pontius (CPG 11044), a qualified person as defined by National Instrument 43-101, has reviewed, but not independently verified, the West Mountain information that forms the basis for this news release and has approved the disclosure herein. Mr. Pontius is not independent of the Company, as he is the CEO and holds common shares and incentive stock options in Corvus.
About Corvus Gold Inc.
Corvus Gold Inc. is a resource exploration company focused in Alaska and Nevada which controls a number of exploration projects representing a spectrum from early stage to the advanced gold projects. Corvus is committed to building shareholder value through new discoveries and leveraging those discoveries via partner funded exploration into carried and or royalty interests that provide shareholders with significant exposure to gold production.
On behalf of
Corvus Gold Inc.
(signed) Jeffrey A. Pontius
Jeffrey A. Pontius,
Chief Executive Officer

Contact Information:  Ryan Ko â€" Investor Relations
Email: Â rko@corvusgold.com
Phone: 1-888-770-7488 (toll free) or (604) 638-3246 / Fax: (604) 408-7499
Cautionary Note Regarding Forward-Looking Statements
This press release contains forward-looking statements and forward-looking information (collectively, "forward-looking statements") within the meaning of applicable Canadian and US securities legislation. All statements, other than statements of historical fact, included herein including, without limitation, statements regarding the anticipated content, commencement and cost of exploration programs, anticipated exploration program results, the discovery and delineation of mineral deposits/resources/reserves, the planned completion of a bulk sample, the possibility of any further increase in the known extent of the Ben Vein or the current estimated mineral resource at the Terra Project, the possibility for any gold/silver production, whether near-term or otherwise, from the Terra Project, business and financing plans and business trends, are forward-looking statements. Although the Company believes that such statements are reasonable, it can give no assurance that such expectations will prove to be correct.  In addition, information with respect to the proposed activities of WestMountain on the Terra property has been provided by WestMountain (the operator of the Terra joint venture) and, as such activities are not within the control of the Company, the Company takes no responsibility for the accuracy of such statements. Forward-looking statements are typically identified by words such as: believe, expect, anticipate, intend, estimate, postulate and similar expressions, or are those, which, by their nature, refer to future events. The Company cautions investors that any forward-looking statements by the Company or any of its joint venture partners are not guarantees of future results or performance, and that actual results may differ materially from those in forward looking statements as a result of various factors, including, but not limited to, variations in the nature, quality and quantity of any mineral deposits that may be located, variations in the market price of any mineral products the Company or its joint venture partners may produce or plan to produce, the inability of the Company or any of its joint venture partners to obtain any necessary permits, consents or authorizations required for its or their activities, the inability of the Company or any of its joint venture partners to produce minerals from their properties successfully or profitably, to continue its projected growth, to raise the necessary capital or to be fully able to implement their respective business strategies, and other risks and uncertainties disclosed in the Company's 2011 Annual Information Form and filed with certain securities commissions in Canada. All of the Company's Canadian public disclosure filings may be accessed via www.sedar.com and readers are urged to review these materials, including the technical reports filed with respect to the Company's mineral properties.
Cautionary Note Regarding References to Resources and Reserves
National Instrument 43 101 - Standards of Disclosure for Mineral Projects ("NI 43-101") is a rule developed by the Canadian Securities Administrators which establishes standards for all public disclosure an issuer makes of scientific and technical information concerning mineral projects. Unless otherwise indicated, all resource estimates contained in or incorporated by reference in this press release have been prepared in accordance with NI 43-101 and the guidelines set out in the Canadian Institute of Mining, Metallurgy and Petroleum (the "CIM") Standards on Mineral Resource and Mineral Reserves, adopted by the CIM Council on November 14, 2004 (the "CIM Standards") as they may be amended from time to time by the CIM.
United States shareholders are cautioned that the requirements and terminology of NI 43-101 and the CIM Standards differ significantly from the requirements and terminology of the SEC set forth in the SEC's Industry Guide 7 ("SEC Industry Guide 7"). Accordingly, the Company's disclosures regarding mineralization may not be comparable to similar information disclosed by companies subject to SEC Industry Guide 7. Without limiting the foregoing, while the terms "mineral resources", "inferred mineral resources", "indicated mineral resources" and "measured mineral resources" are recognized and required by NI 43-101 and the CIM Standards, they are not recognized by the SEC and are not permitted to be used in documents filed with the SEC by companies subject to SEC Industry Guide 7. Mineral resources which are not mineral reserves do not have demonstrated economic viability, and US investors are cautioned not to assume that all or any part of a mineral resource will ever be converted into reserves. Further, inferred resources have a great amount of uncertainty as to their existence and as to whether they can be mined legally or economically. It cannot be assumed that all or any part of the inferred resources will ever be upgraded to a higher resource category. Under Canadian rules, estimates of inferred mineral resources may not form the basis of a feasibility study or prefeasibility study, except in rare cases. The SEC normally only permits issuers to report mineralization that does not constitute SEC Industry Guide 7 compliant "reserves" as in-place tonnage and grade without reference to unit amounts. The term "contained ounces" is not permitted under the rules of SEC Industry Guide 7. In addition, the NI 43-101 and CIM Standards definition of a "reserve" differs from the definition in SEC Industry Guide 7. In SEC Industry Guide 7, a mineral reserve is defined as a part of a mineral deposit which could be economically and legally extracted or produced at the time the mineral reserve determination is made, and a "final" or "bankable" feasibility study is required to report reserves, the three-year historical price is used in any reserve or cash flow analysis of designated reserves and the primary environmental analysis or report must be filed with the appropriate governmental authority.
This press release is not, and is not to be construed in any way as, an offer to buy or sell securities in the United States.