Mother Lode
Introduction
The Mother Lode Project is situated 165 km northwest of Las Vegas, Nevada, 10 km east of Beatty, Nevada, and approximately 20 road km's from the Company's North Bullfrog project in the Walker Lane gold belt. The project consists of 445 federal unpatented mining claims covering an area of approximately 36.5 km²
Corvus Gold, Bullfrog District Land Package Jan 2021
Ownership
The historic Mother Lode open-pit project land package consists of 250 acres (~1.0 km²) and was purchased 100% by Corvus Gold in mid-2017. The terms of the deal included the following (see news release, June 6, 2017):
Issuance of 1,000,000 Corvus Gold common shares
Granting of a 1% Net Smelter Royalty (NSR) on production from the 250 acres land package as well as an additional 1% NSR when gold price is over $1,400 USD per ounce
In conjunction with the acquisition of the Mother Lode project, the Company staked two additional claim blocks totalling 1,040 acres (~4.2 km²) near the original land package.
Corvus Gold's Mother Lode project property boundaries
Project Background
The Mother Lode open-pit project was previously mined in the late 1980's producing 34,000 ounces at an average grade of 1.8 g/t gold via heap leach recovery but was closed due to fluctuating gold prices. The project saw small scale exploration activity in the mid 1990's as the deposit was held within what was known as the Daisy Mine land package - a combination of other nearby deposits (Secret Pass & West Zone) and exploration targets.
Historic Daisy Mine Land Package
*Non-Corvus Gold Land Package
A total of 172 exploration holes have been drilled at Mother Lode between the 1980's and into the late 1990's. The majority of the holes were drilled vertically and no more than 200 metres deep. A prior historical resource estimate (non NI 43-101 estimates) showed 8.5Mt at an average grade of 1.6 g/t gold totalling 433,000 ounces. Corvus Gold's main goal for the remainder of 2017 and into 2018 is to drill and incorporate the information into a NI 43-101 resource estimate.

View of Mother Lode open pit
3D Flyover of the Mother Lode project:

View of Mother Lode looking Northwest towards North Bullfrog project, Highway 95 in background
Geology and Mineralization
Gold mineralization at the Mother Lode project is Miocene in age and hosted in a series of shallowly dipping tuffaceous volcanic sediments and sills as well as the underlying Paleozoic limestones of the Roberts Mountain formation. Key ore controls are a series of high angle, north-northwest trending structures hosting Miocene dikes and sills and the east-northeast trending, north dipping, Fluorspar Canyon detachment fault. The intersection of these two major structural trends has created a large damaged zone and facilitated intrusive activity which is currently interpreted to be genetically related to the gold system. The north-northwest trending structural zones host higher grade mineralization in excess of 3 g/t Au over widths of 10-40 metres. The current historic resource is shallow and has an overall strip ratio of about 1-1. Mineralization varies from oxide through transitional to sulfide.
Exploration Summary
Corvus Gold is conducting the first new exploration and resource definition drilling on the Mother Lode property in over 20 years. Historic drilling was dominantly vertical and only to a depth of <200 metres, which failed to effectively test the high angle, structurally/dike related feeder zones. In addition, no drilling tested the lower plate, Paleozoic Robert Mountain formation limestone target for potential Carlin style, sediment hosted mineralization.
Corvus Gold will use the results from its two stage 2017/2018 drill program to validate and expand the existing 25,000 metre, 172 drill hole data base which will culminate in the publication of a NI-43-101 resource statement in the early part of 2018. In addition, the new Mother Lode resource will be combined with Corvus Gold's existing North Bullfrog project located approximately 6 kilometres to the northwest for an updated Preliminary Economic Assessment in late mid-2018.
Exploration Update
Details to follow.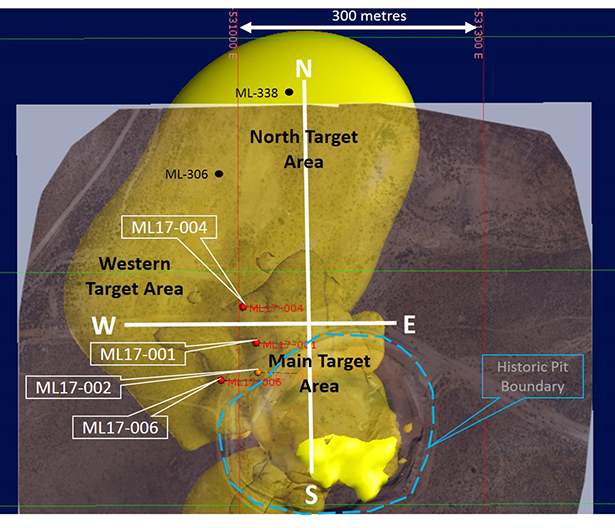 Plan map showing recent drill holes on new >0.5 g/t grade shell projected to surface which is the phase I exploration area with section lines, ML-306 & ML-338 are historic holes not drilled by Corvus
Plan Map of Mother Lode drilling as reported on Nov 7, 2017